Roll over image to zoom in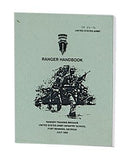 Description
Military Issue Manual
From 1756 When Major Robert Rogers Organized The Rangers Until Present Day Nothing Has Struck Fear Into The Hearts And Minds Of The Enemy Like The Realization That U.S. Army Rangers Are In The Area. Chapters On Leadership, Missions, Movement, Patrolling, Battle Drills, Mountaineering. It's All Here And Much More.
444 Pages Illustrated.
5 1/2" X 8"
Secured and Trusted Checkout with SSL Encryption
Your payment information is processed securely. We do not store credit card details nor have access to your credit card information.