Roll over image to zoom in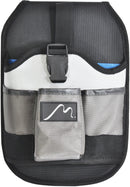 Description
GIVING BACK - We recognize that there are major environmental issues facing our planet. Our aim is to have as minute a footprint as possible and to use our resources to move forward. That's why we donate a portion of the proceeds from every sale to the Endangered Species International foundation. Together, we can fight extinction.

BE PREPARED Tired of putting your drill down, or carrying it in one hand up ladders? Not only is that method inefficient, but it can also be extremely dangerous when working with height. Save time, and peace of mind with our Metier Drill Holster! With enough room for any cordless drill, extra drill bits, and screws, you can carry what you need to get the job done in one sleek holster.

QUALITY CONSTRUCTION 1680D Nylon makes this holster ultra-durable, yet extremely lightweight. Molded plastic on the front and back of the pouch ensure a rigid structure, no more sagging, causing pouches to tighten up. The large open pouch has a plastic insert at the bottom, no more screws poking out of the bottom after extensive use. Rest assured that our holster will get the job done, and the next several jobs as well.

ELEGANT DESIGN We didn't want to make just another drill holster. On top of our added features, we decided that an extra aesthetic would add the extra flair that other holsters do not offer. You're proud of your work, why not show it? Additionally, we made this pouch ambidextrous, so it will work with either the left or right hand. The 4" belt loop will fit through most work belts, as well as your average belt.

SAFE AND SECURE Magnetic backed pouches ensure that your bits will stay in place. Elastic pockets on the bottom hold smaller drill bits, while the deeper nylon pouches are perfect for longer bits or extensions. Molded plastic makes the pouch rigid, which prevents any sagging. The hook and loop buckle snap keeps your drill in place, but can be lifted for ease of access when needed.
Metier Life: Luxury done responsibly.
Our Drill Holster was designed with home-improvement in mind but stands up to all industrial uses as well. 1680D nylon construction makes this product extremely durable and will stand up to all abuses while on the job. Compatible with most work belts, our drill holster is a perfect addition to your already existing tool belt or a great beginning to a new tool belt.
 Form and Function
We designed our pouches to have the most ease of use, while still maintaining security needed to keep your tools in one place. Magnetic backed pouches keep your bits in place while allowing you to easily access them. Elastic pouches for bit tips keep them organized, and effortless to grab. The large open pouch can hold screws, a bottle of water, or even your smartphone. The molded plastic sewn into the front and back of the pouch gives it a tough and rigid structure, to prevent any sagging from placing a drill inside. Ambidextrous design means that this holster will be great for either a right or left-handed individual.
Fight Against Extinction! Metier Life has partnered with Endangered Species International to help conserve the wildlife that needs our attention to survive. A portion of the proceeds from every sale goes to the science, political efforts, and implementation of solutions that benefit members of the ecosystem critically close to extinction.
Secured and Trusted Checkout with SSL Encryption
Your payment information is processed securely. We do not store credit card details nor have access to your credit card information.