Roll over image to zoom in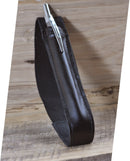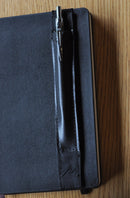 Description
GIVING BACK - We recognize that there are major environmental issues facing our planet. Our aim is to have a minute a footprint as possible and to use our resources to move forward. That's why we donate a portion of the proceeds from every sale to the Endangered Species International foundation. Together, we can fight extinction.

BE PREPARED A notebook is all but useless without a writing utensil to write thoughts and ideas down. Always be ready to write your thoughts and experiences with the Metier Notebook Pen Sleeve. With room for one pen, you'll always be prepared to fill your notebook of choice with those important details.

QUALITY CONSTRUCTION - The attention to detail is apparent at first glance. From the materials to the stitching, and functionality. Improving your daily essentials is our Metier.

ELEGANT DESIGN Canvas and Vegan Leather make this product lightweight but also form-fitting. The pen sleeve will conform to your hardcover notebook, and with a lay-flat design, will not get in the way when writing. Multiple pen slots encourage you to put multiple pens in the sleeve to fill the space and make for a tighter fit. One pen is more than enough and frees up space for ease of use.

BEST VALUE Similar products boast their quality of design and function, but for a premium price. As avid note takers and thinkers, we like to be prepared, but at a price that is right. Available in a single pack for yourself, two packs to serve multiple notebooks or use as a gift for your fellow scholar.
Metier Life: Luxury done responsibly.

Always be prepared to take notes at a moment's notice. Carrying a pen in your pocket is not only unorganized, it's not efficient when an idea pops into your head and needs to be written down immediately. Our Pen Sleeve was designed for the Moleskine classic notebook, but works great on all A5 and similarly sized 8.25" notebooks. For those that prefer the traditional pen and paper to commit to memory, this product is great for personal use, and as a gift for your fellow scholar or creative.

Fight Against Extinction! Metier Life has partnered with Endangered Species International to help conserve the wildlife that needs our attention to survive. A portion of the proceeds from every sale goes to the science, political efforts, and implementation of solutions that benefit members of the ecosystem critically close to extinction.
Secured and Trusted Checkout with SSL Encryption
Your payment information is processed securely. We do not store credit card details nor have access to your credit card information.