Roll over image to zoom in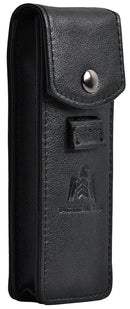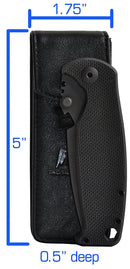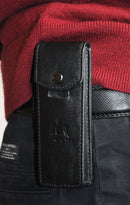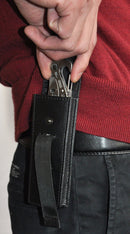 Description
This belt-mounted knife pouch keeps your knife or multitool ready at any moment.
BUILT TO LAST - A refined design and top manufacturing processes create a leather pouch that can withstand daily use. As knife enthusiasts, we know how important reliability is.

DESIGNED FOR SPEED AND CONVENIENCE - The pouch has a slot in the back for securing on to your belt. Once fastened, inserting and retrieving your knife is quick and easy. Simply pop open the clasp, and pull on the tab to draw your knife fast.

PRECISE FIT - The Tactical 365 Pouch was created around the Leatherman Skeletool, but fits a number of different folding knives and multitools. It's 5 inches deep and 1.75 inches wide.

TRUSTED BY PROFESSIONALS - Pocket carrying knives and tools can be damaging to other EDC items as well as your clothing. A sturdy leather pouch is a utilitarian approach to carrying any kind of tool. The pull tab is the feature that will have you using your pouch multiple times every day.

*POUCH ONLY, TOOL NOT INCLUDED.
The Tactical 365 Skeletool Knife Pouch was designed for professionals and EDC enthusiasts everywhere. Carrying a multitool is a great way to be prepared for any job, but it can be problematic to carry either directly on the belt or in the pocket. The metal can scratch phones or swing around on your belt uncontrolled.
Our stealthy leather pouch was designed around the Leatherman Skeletool to protect your belongings and keep your tool ready at all times. It fits many tools of similar sizes, and we've tested it with hundred of small folding knives. Small knives aren't hard to retrieve because of the pull tab. The sides have some play to allow larger knives as well. The slot on the back fits most belts securely, so you have a pouch that fits multiple kinds of knives, won't move from where you placed it, and is always ready for action.
Tactical 365: Be prepared.

Support Operation First Response
A portion of the proceeds are donated to Support a Wounded Warrior in need! Operation First Response serves the wounded heroes, and their families and with your support together we make a difference.
The mission of Operation First Response, Inc (OFR) is to serve all branches of our nation's Wounded Heroes/Disabled Veterans and their families with personal and financial needs. Services are provided from the onset of injuries or illness, throughout their recovery period and along their journey from military life to the civilian world. Financial aid varies as each case is based on individual needs ranging from rent, utilities, vehicle payments, groceries, clothing, and travel expenses.
Secured and Trusted Checkout with SSL Encryption
Your payment information is processed securely. We do not store credit card details nor have access to your credit card information.